Notre ami Jonathan Tannenwald nous apprenait cet après-midi que le commissaire de la MLS sera au match de l'Impact de Montréal ce mercredi face au Orlando City de Kakà.
Inbox: Don Garber will be in Montreal on Wednesday. I wonder if he might have some news to share…

— Jonathan Tannenwald (@thegoalkeeper) September 6, 2016
On se rappellera que la MLS avait promis à Joey Saputo un match des étoiles dans les premières années de la concession. Plus précisément, l'année 2017 avait toujours été un objectif souhaité autant pour la MLS que pour le propriétaire Joey Saputo puisque cela cadrerait parfaitement avec les festivités du 375e anniversaire de la ville de Montréal.
Voici un extrait d'un article datant de 2014: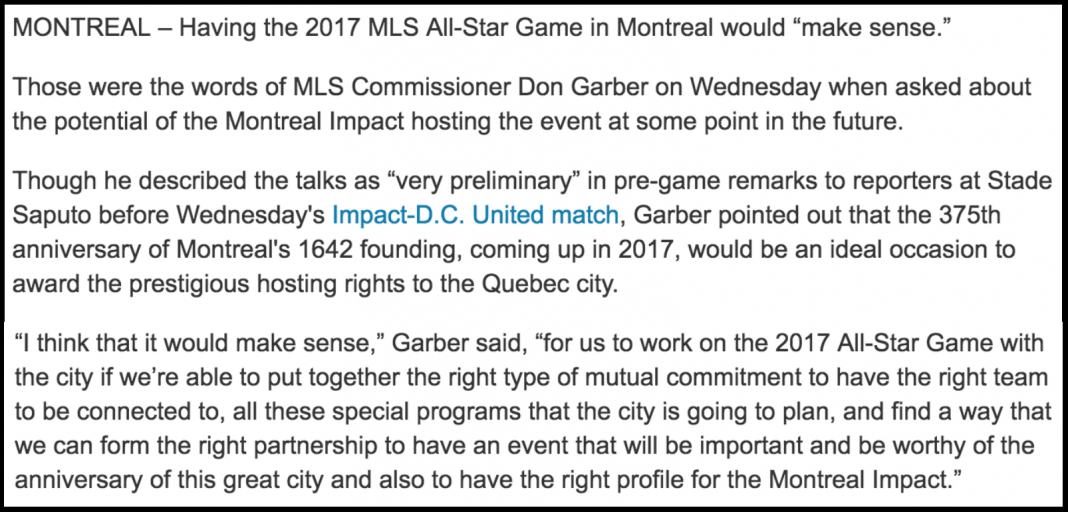 Alors…qui aimeriez-vous voir comme club l'été prochain à Montréal contre les Étoiles de la MLS?