Voici les résultats de Ligue Europa de cette semaine, cinquième journée de la ligue.
À noter les victoires du Zénit, d'Anderlecht, d'Ajax et du Steaua Bucarest.Manchester United se relance avec une grosse victoire de Feyenoord. La Roma et le Shakhtar ont aussi inscrit 4 buts. Du côté des surprises l'Inter de Milan a été défait ainsi que la Fiorentina.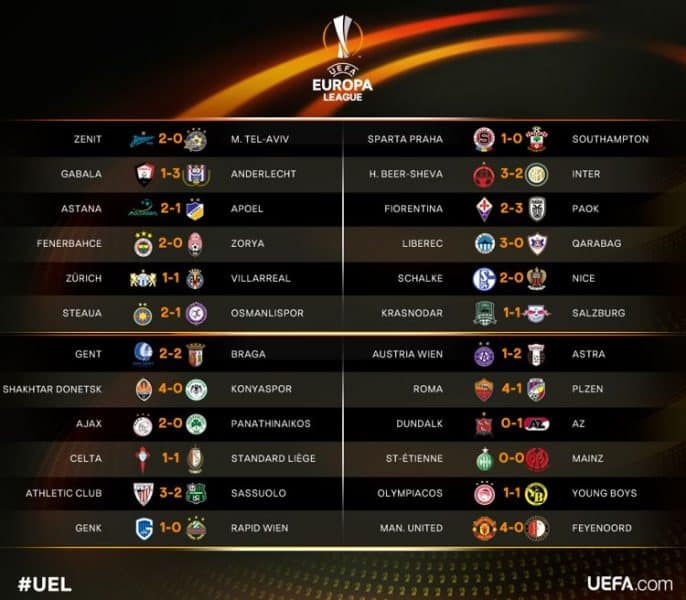 Won group: Ajax, Roma, Schalke, Shakhtar, Sparta, Zenit
Qualified: Anderlecht, APOEL, Athletic, Genk, Krasnodar, Olympiacos, St-Étienne#UEL pic.twitter.com/MPUalueSgs

— UEFA Europa League (@EuropaLeague) November 24, 2016
⚽️⚽️⚽️ pic.twitter.com/4VCBFSvpbz

— AS Roma English (@ASRomaEN) November 24, 2016
Gutted by the result but qualification is still in our hands. Travelling fans were brilliant. Onto the weekend #WeMarchOn pic.twitter.com/HRAOX0KVxZ

— James Ward-Prowse (@Prowsey16) November 24, 2016
---
Et si on parlait foot ?
Prenez part au débat sur Twitter : @KanFootClub ou sur la page Facebook de la communauté du Kan Football Club. Contactez nous par courriel à kanfc@afrokanlife.com. Tous nos podcasts, chroniques et exclusivités sur le soccer montréalais sont disponibles sur Stitcher, Player FM, Google Play Music, RZO, iTunes et sur la page kanfootballclub.Merci à notre partenaire miseojeu.