Décidément Felipe a bien de la rancoeur envers son ancien club.
Felipe félicite le Toronto FC en envoyant une pique à l'Impact de Montréal par un message de mauvais gout.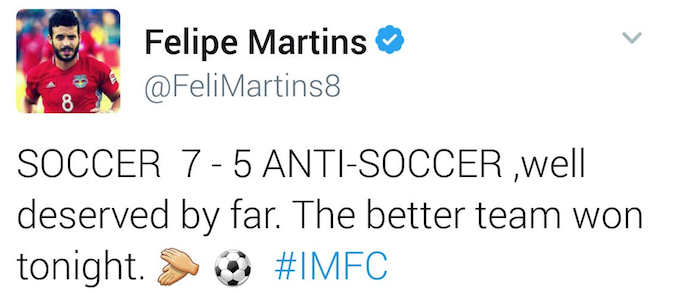 Après Jack Mc Inerney qui exprimait son mépris du stade Olympique, encore un ancien de Montréal qui passe des commentaires peu flatteurs sur Twitter.
« Le soccer 7 – L'anti-soccer 5 »  peut t-on lire dans le tweet de Felipe désormais effacé alors que l'Impact de Montréal s'incline face au Toronto FC en finale de la Conférence Est.
Pour la classe on repassera, d'autant que le joueur est un peu mal placé pour donner des leçons d'anti-soccer.
À noter que Justin Mapp(illon) aura toujours une place dans nos coeurs.
Wow what a game and series! A shame someone had to lose… Congrats to @impactmontreal on a great playoff run… @MLS #MTLVTOR

— Justin Mapp (@jmapp21) December 1, 2016
Bah alors Felipe, on a mal digéré l'élimination face à Montréal ?
---
Prenez part au débat sur Twitter : @KanFootClub ou sur la page Facebook de la communauté du Kan Football Club. Contactez nous par courriel à kanfc@afrokanlife.com.
Tous nos podcasts, chroniques et exclusivités sur le soccer montréalais sont disponibles sur Stitcher, Player FM, Google Play Music, RZO, iTunes et sur la page kanfootballclub.Merci à notre partenaire miseojeu.