L'ancien attaquant de l'Impact de Montréal n'est pas un grand fan du Stade Olympique . Durant la finale aller de la conférence Est «Jack Mac» ne s'est pas gêné pour critiquer l'enceinte montréalaise.
On aurait pu s'attendre à plus de compassion de la part de celui qui a joué près de 50 matchs avec le Bleu-Blanc-Noir bien que son commentaire ne soit pas si étonnant. Le partisan moyen n'est pas fan du Stade Olympique non plus. Ce qui a été plus curieux sont les interactions qui ont suivi son tweet. Le joueur des Timbers de Portland s'est engagé dans des joutes verbales avec ses anciens partisans. Il n'a décidément pas la langue dans sa poche.
This is ridiculous. Shouldn't be playing in this stadium to begin with

— Jack McInerney (@JackMcInerney9) November 23, 2016
« C'est ridicule. Ne devrait pas jouer dans ce stade dans un premier temps » a t-il indiqué en commentaire de l'incident de début du match. En effet les lignes de la surface de réparation ont été mesurées trop petites, causant un retard de 40 minutes au coup d'envoi.
Jack McInerney Twitter Fights

..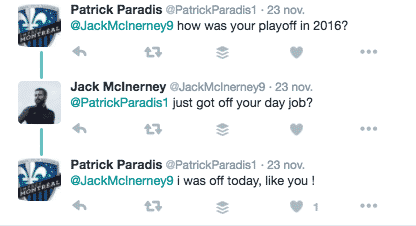 ..


Une fin abrupte
L'attaquant américain Jack McInerney avait marqué quatre buts en 17 matchs. Il a ensuite fait l'objet d'une transaction de l'Impact de Montreal avec le Columbus Crew SC. Le club montréalais a obtenu en échange un choix de seconde ronde lors du SuperDraft 2016. Cette transaction avait permis à l'Impact d'économiser autour de 300 000$.
« Je voulais rester ici, même qu'on avait amorcé les discussions pour une prolongation de contrat, mais avec l'arrivée de Drogba, je comprends la situation »
---
Et si on parlait foot ?
Prenez part au débat sur Twitter : @KanFootClub ou sur la page Facebook de la communauté du Kan Football Club. Contactez nous par courriel à kanfc@afrokanlife.com.
Tous nos podcasts, chroniques et exclusivités sur le soccer montréalais sont disponibles sur Stitcher, Player FM, Google Play Music, RZO, iTunes et sur la page kanfootballclub. Merci à notre partenaire miseojeu.