Est-ce qu'un joueur de l'Impact de Montréal prendra la direction d'Atlanta ou Minnesota après le Repêchage d'Expansion MLS?
Avec Dominic Oduro et Patrice Bernier étant sur la liste des joueurs non-protégés, le Bleu-Blanc-Noir pourrait perdre des éléments clés de son effectif. D'autres joueurs , notamment Harry Shipp et Calum Mallace, pourraient intéresser Adrian Heath (coach de Minnesota) et Tata Martino (coach d'Atlanta United) et libérer la masse salariale de l'Impact.
Visionnez en direct le repêchage avec le KAN Football Club
*** MISE À JOUR ****

Le défenseur de l'Impact de Montréal Donny Toia et le gardien du Toronto FC Clint Irwin ont été réclamés, mardi, au repêchage d'expansion de la MLS.
10 joueurs MLS parmi un total de 295 l'opportunité de se faire sélectionner par Atlanta United FC ou Minnesota United FC dans le cadre du Repêchage d'Expansion MLS 2016.
À Lire Aussi : Repêchage d'Expansion 2017 : Les choix difficiles de l'Impact
Les deux nouvelles franchises auront la chance de bâtir leurs effectifs respectifs avec un mix intéressant de joueurs qui inclut des joueurs d'expérience, des jeunes qui ont besoin de temps de jeu et d'autres profils intéressants.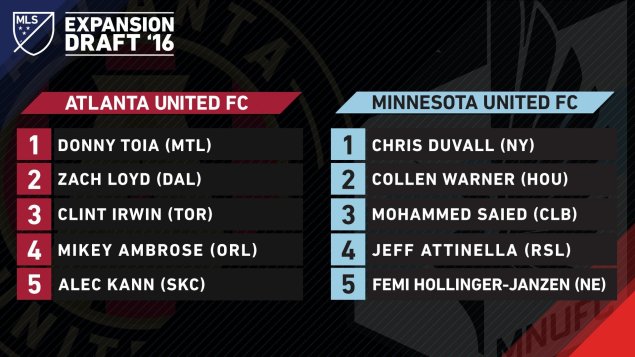 ---
Le capitaine de l'Impact de Montréal réagit au départ de Donny Toia
Thank you Donny Toia for great service and helping team get back on its feet since 2015. All the best and you will be missed. #imfc #atlanta

— Patrice Bernier (@pbernier10) December 13, 2016
---
Le draft d'Atlanta United en 30 secondes
Relive the draft in 30 seconds#ATLUTD | @MLS pic.twitter.com/FGZQepiEAu

— Atlanta United FC (@ATLUTD) December 13, 2016
---
Donny Toia est echangé d'Atlanta à Orlando
BREAKING: Orlando City SC Trades 2017 MLS SuperDraft Pick to Atlanta for Defender Donny Toia.

Read | https://t.co/Wfhv9UmTb9 pic.twitter.com/D1xsQEDC6s

— Orlando City SC (@OrlandoCitySC) December 13, 2016
---
L'IMPACT ACQUIERT LE DÉFENSEUR CHRIS DUVALL DU MINNESOTA UNITED FC
L'Impact de Montréal a annoncé mardi avoir fait l'acquisition du défenseur latéral américain Chris Duvall et d'un montant d'allocation général du Minnesota United FC en retour du milieu de terrain Johan Venegas. La transaction sera conclue à la réception de son Certificat de transfert international.
With the second pick of the first round in the 2016 @MLS Expansion Draft, #MNUFC selects @chrisduvall91 of the @NewYorkRedBulls. pic.twitter.com/CGlOhbl5fS

— Minnesota United FC (@MNUFC) December 13, 2016
---
L'Impact de Montréal remercie Johan Venegas.
« Nous voulons remercier @Johan_VenegasCR pour ses services et lui souhaitons beaucoup de succès avec sa nouvelle équipe. » -Adam Braz #IMFC pic.twitter.com/ELqFLS7txd

— Impact de Montréal (@impactmontreal) December 13, 2016
---
Et si on parlait foot ?
Prenez part au débat sur Twitter : @KanFootClub ou sur la page Facebook de la communauté du Kan Football Club. Contactez nous par courriel à kanfc@afrokanlife.com. Tous nos podcasts, chroniques et exclusivités sur le soccer montréalais sont disponibles sur Stitcher, Player FM, Google Play Music, RZO, iTunes et sur la page kanfootballclub.Merci à notre partenaire miseojeu.