Le match nul 2-2 entre New England Revolution et le New York Red Buls pourrait être le dernier de Thierry Henry qui, à 37 ans, devrait mettre un terme à une carrière exceptionnelle.
Malgré  917 parties et 411 buts inscrits Thierry Henry ne disputera pas la première finale de MLS de sa carrière. Le match nul (2-2) qualifie New England. Le revers à domicile à l'aller (2-1) leur a été fatal. Le Revolution qui affrontera Dallas ou le Los Angeles Galaxy retourne en finale pour la première fois depuis 2007.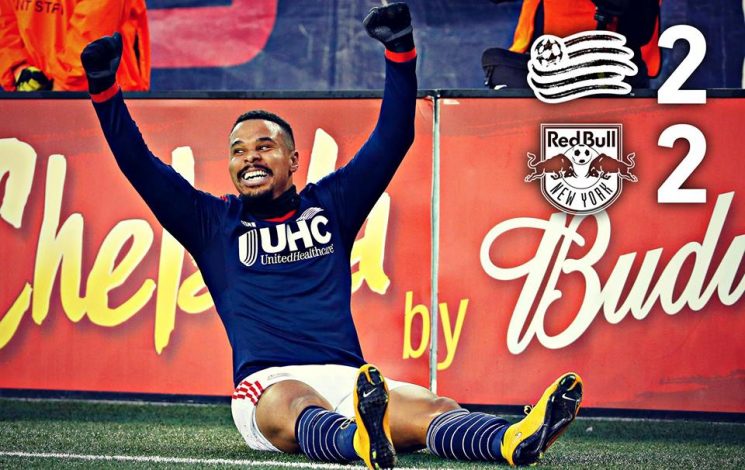 Les Red Bulls y ont pourtant en menant deux fois au score. Mais la deuxième période a été fatale à New York, qui s'est effondré en défense. Buts de Cahill (26e) et Luyindula (52e) pour les Red Bulls, doublé de Davies pour New England (41e et 71e).
A legend leaves the field. #TH14 #MLS pic.twitter.com/t2gyubWXj6

— Goal.PH (@GoalPH) November 29, 2014
FULLTIME: The Red Bulls play to a draw, but fall to New England on aggregate. 2-2 #NEvNY — New York Red Bulls (@NewYorkRedBulls) 29 Novembre 2014
La dernière passe de Thierry Henry en carrière ?
Les records de Thierry Henry:
Meilleur buteur français de l'histoire toutes compétitions confondues
Meilleur buteur français de l'histoire à l'étranger
Meilleur buteur de l'histoire de l'équipe de France (51 buts)
Deuxième joueur le plus capé de l'équipe de France (123 sélections)
Meilleur buteur étranger de l'histoire en Premier League
Meilleur buteur de l'histoire d'Arsenal (228 buts)
Meilleur buteur du championnat d'Angleterre en 2002 (24 buts), 2004 (30 buts), 2005 (25 buts) et 2006 (27 buts)
Meilleur buteur français de l'histoire de la Ligue des champions
Troisième meilleur buteur de l'histoire de la Premier League (depuis 1992)
REGINALD JOSEPH SOCCER SANS FRONTIERES