Le tirage huitièmes de finale Ligue Champions 2015-2016 a été programmé ce lundi 12 décembre 2016 dans l'enceinte de l'U.E.F.A.
Le PSG et Monaco connaissent désormais leur adversaire pour les huitièmes de finale de la Ligue des champions. Les Français ont hérité d'un tirage très compliqué avec le FC Barcelone pour les parisiens et le Manchester City pour les monégasques.
Ligue des Champions 2016-2017 : Champions League en direct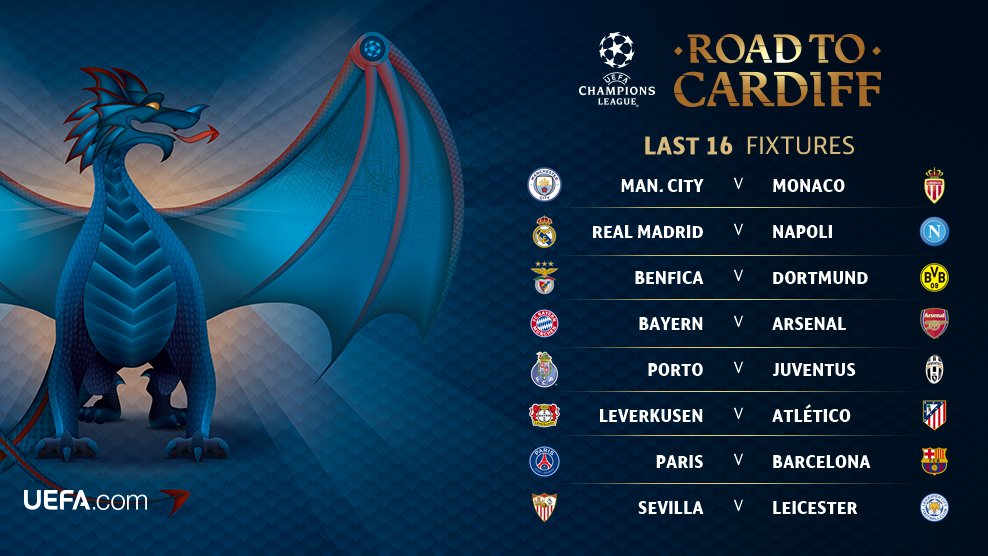 Manchester City v Monaco
Allez @AS_Monaco !! 😃@ChampionsLeague pic.twitter.com/r4eRU4yQw7

— Bernardo Silva (@BernardoCSilva) December 12, 2016
Real Madrid v Napoli
You play football for a moments like this 🔥💪 Big challenge ahead, we are waiting for Real.

— Arkadiusz Milik (@arekmilik9) December 12, 2016
Benfica v Borussia Dortmund
Your destination in March, @SLBenfica! Looking forward to welcoming you to the German capital of football! #UCLdraw pic.twitter.com/b9DVQXISMv

— Borussia Dortmund (@BVB) December 12, 2016
Bayern Munich v Arsenal
True story mate 👍🏼😉 … #UCLdraw #FCBARS pic.twitter.com/xrkC9oJQxM

— Mesut Özil (@MesutOzil1088) December 12, 2016
Porto v Juventus
Nedved: "Neither leg will be easy. If you underestimate anyone in the @ChampionsLeague, you get knocked out." #UCLDraw

— JuventusFC (@juventusfcen) December 12, 2016
Bayer Leverkusen v Atletico Madrid
Ömer #Toprak's first response to the #UCLdraw against @atletienglish: "We have an open score to settle!" pic.twitter.com/X6PgRZFN8K

— Bayer 04 Leverkusen (@bayer04_en) December 12, 2016
Paris Saint-Germain v Barcelona
Nasser Al-Khelaïfi "Une fois de plus nous allons rencontrer Barcelone, c'est une équipe pour laquelle nous avons beaucoup de respect" pic.twitter.com/4sTTiMrI41

— PSG Officiel (@PSG_inside) December 12, 2016
Sevilla v Leicester City
Our @ChampionsLeague journey continues vs @SevillaFC. Can't wait for it #UCLdraw 👍 pic.twitter.com/dD3sbOSckL

— Kasper Schmeichel (@kschmeichel1) December 12, 2016
 Calendrier et dates des matchs de huitièmes de finale Ligue des Champions ?
Match Aller:  le 14-15 février et le 21-22 février.
Match Retour le 7-8 mars et  le 14-15 mars.
---
Et si on parlait foot ?
Prenez part au débat sur Twitter : @KanFootClub ou sur la page Facebook de la communauté du Kan Football Club. Contactez nous par courriel à kanfc@afrokanlife.com.
Tous nos podcasts, chroniques et exclusivités sur le soccer montréalais sont disponibles sur Stitcher, Player FM, Google Play Music, RZO, iTunes et sur la page kanfootballclub.Merci à notre partenaire miseojeu.