#TropDePoutine pour GSP ? On a adoré !
There's never too much poutine says my print screen, picture! #IMFC #MLS #MTL @1642Montreal pic.twitter.com/EcumZ39FHR

— Lizzy (@girlsloveIMFC) 23 avril 2016
Une courte vidéo, ou quelques captures d'écrans, montrant l'ancien (pour l'instant) champion de UFC manger une poutine dans la section des 1642 ont complètement incendié les réseaux sociaux, surtout Twitter.
De plus, pour les habitués du Kan Football Club, on eu la même réaction, soit lui dédier le #TropDePoutine (de façon humoristique, on t'aime GSP !).  Qui plus est, quelques tweets nous on fait bien sourire, on vous aime, les voici, pèles-mêles ;
Résumé du match #IMFC vs #TFC. pic.twitter.com/1lrKGZmqwp

— Nilton Jorge (@NiltonJorge) 24 avril 2016
I think @1642Montreal ordered #IMFC to not score so that GSP (#TropDePoutine) doesn't somehow brake while ringing the @NorthStarBell15 lol

— Nick Tsaboukos (@NTsaboukos) 24 avril 2016
Georges St. Pierre will ring the bell if #IMFC scores. And of course, he's eating #TropDePoutine @KanFootClub @sofianebenzaza

— Julian McKenzie (@JulianTheIntern) 23 avril 2016
Isn't GSP eating a pouting beside the bell at the #IMFC game the most Montreal thing ever?
https://t.co/dY1EOe3LQ4

— Tristan D'Amours (@tristandamours) 23 avril 2016
This is by far the best thing I have seen yesterday! Via @BadMLSComics pic.twitter.com/cOCD2WGiAE #IMFC #SadGSP

— Kevin Laramée (@KevLaramee) 24 avril 2016
D'ailleurs, il ne lui manquait que le t-shirt…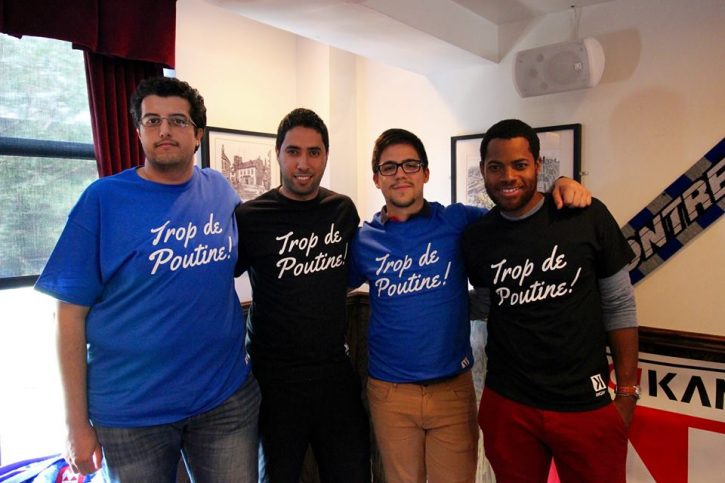 @KanFootClub avouez que c'est un stunt publicitaire 😀 GSP qui mange #tropdepoutine

— Eli la Guédaille (@HockeyEli) 23 avril 2016
Bon, pour le coup publicitaire, ce n'est pas le cas, mais on aurait bien aimé…
Allez, une petite dernière, qui fait mal certes, mais c'est de bonne guerre.
Is GSP still here? #TFCLive #MTLvTOR

— Toronto FC (@torontofc) 23 avril 2016
Continuez à utiliser nos mots-clics sans modération, on adore vos commentaires ! #KanFamily
---
Cet article a été rédigé par Alek Avendano
Bio de Alek: Amoureux du ballon rond, #IMFC de coeur. membre de @MtRoyalSocceret @KanFootClub . Mexicano hincha del Barca. #Habs
Suivez-le sur twitter: @Alek_Avendano
Crédit photo: TVA Sports